HOME
> Bass set through neck
BASS SET THROUGH NECK
In the "set through" solution, the neck extends along the back of the body up to the bridge (or on the front of the body, usually up to the pickup at the neck), to which it can be glued or even screwed.


The "set-through-neck" method represents a valid alternative to the set (glued) neck and the neck through neck.

This construction method offers all the advantages of the neck set and neck through as it allows you to maintain the vibration from the nut to the bridge without interruption whilst also allowing you to craft the body in a single piece.

Despite its indisputable validity, the "set through" method has not yet been met with the success it deserves, probably because of the difficulty of some steps in the building process. It is, however, used successfully by some manufacturers on both sides of the ocean, especially for the bass.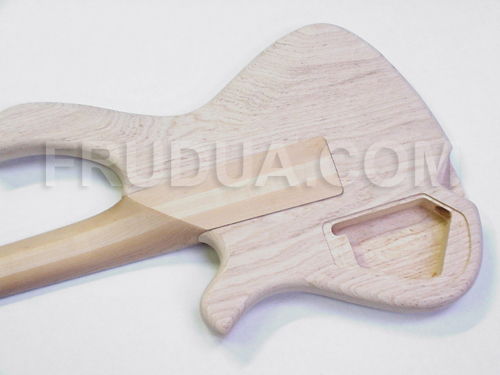 Set through neck on a Frudua Slave MKIII Quadrabass.