HOME
> Seasoning guitar wood
SEASONING GUITAR WOOD
Unseasoned wood contains water both in the cells walls and in the cell's channels.

Wood, even if exposed to rain and fog, will rapidly lose the water contained in it's cell's channels. Once exposition is finished it starts drying in it's cell's walls too and this process is called "seasoning".


The wood's cell's mass seems to increase during seasoning and this is probably due to the fact that the amorphous material inside the wood tends to lose it's water content pretty rapidly while the crystalline parts which constitute the real wood (walls) don't.

This is why wood is subject to morphological and structure changes while seasoning according to how it is cut. On average a radial cut will cause the wood to react less than a "slab" cut.

As the tree is cut down the percentage of moisture in the wood may also reach half the total weight of the plant and a wood board is defined as "seasoned" only when its relative moisture content reaches about 10-15%.

The best way to store wood is to stock it in highly ventilated rooms so the process develops faster and in the most natural way possible.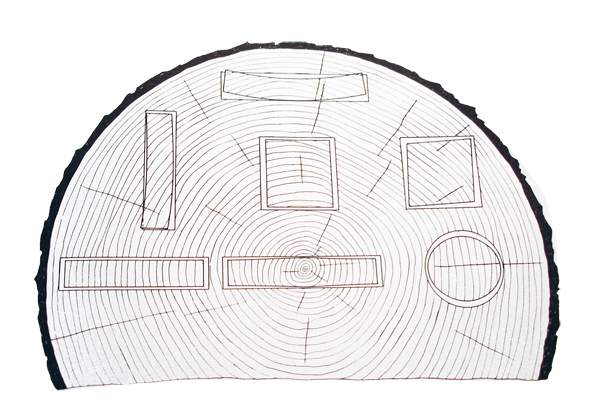 How woods differently reacts to seasoning according to the type of cut.



KILN DRYING

The process used to apply an artificial seasoning to wood is called kiln drying. The wood is placed on dedicated supports and placed into special rooms which are warmed up with a flux of dry and hot air. The process reduces the wood's moisture content to a percentage varying from 7 to 12%.

The result is a sort of artificial seasoning which in the real world would take about 10 years to occur. Kiln dried wood should also be left some time to open air before use.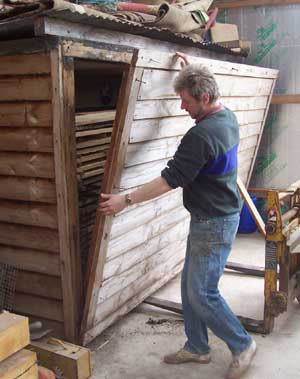 Kiln drying chamber.



HINTS AND TIPS
When cutting and stocking necks and body blanks for seasoning, we need to pay attention to the structure and direction of the grain to forecast how that particular board will behave while drying. Wood tends to straighten the grain while drying and for this reason we need to leave enough room in the cut to regain exact sizes later otherwise there is a high risk to find ourselves with a piece of wood which we will not be able to use.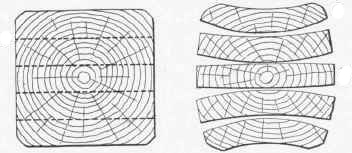 How grain tends to straighten during seasoning.



The hardwood, that is the portion of wood cut from the internal part of the tree is always denser and harder than the younger external part (sapwood).