HOME
> Guitar neck joint
GUITAR NECK JOINT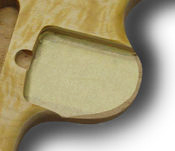 The vibration of the string extends from the nut to the bridge and the whole transmission of sound passes through the guitar neck to body joint whose crafting requires the utmost care.


HELPFUL TIPS

Before painting, the neck opening on the body must be protected with body adhesive tape at the point where the neck pocket is inserted. This prevents the finish from depositing a coating that could hinder the passage of sound vibrations between the two parts.


The neck must also fit perfectly and simply into the neck pocket. To achieve this, it is necessary to predict the thickness that will come with the type of paint used. If you intend to use a glossy finish which is thicker, you will need to make a slightly wider hole for the neck on the body. Alternatively, if we have chosen a satin finish, we can work with less tolerance.



Contoured neck heel.



As for the indisputably greater ease of access to the last frets of other solutions such as neck through, this has been solved on "bolt on" instruments by contouring the "heel" of the guitar, the point on the back of the body where the neck is inserted into the body in English (contoured neck heel).