HOME
> Guitar neck joint
GUITAR NECK JOINT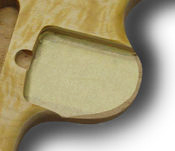 In any electric guitar the most important part for resonance and tone is the neck due to the way it supports the string's vibration protruding from the nut to the bridge. This is why the way the neck to body joint is built is so important.


HINTS AND TIPS

One of the first things to care of is to protect the neck joint cavity with masking adhesive paper to avoid the finish covering the surface where the neck will later lay on and creating a film that may dampen the tone and string's vibration.


Same care must be taken in having the neck pocket perfectly fitting the neck size in order for the neck, once mounted, to perfectly adhere to the bottom and side walls of the neck cavity. P.S. If you found this article helpful and know people who NEED to hear this informations, then do them the biggest favor you can by sharing this value with them asap on Facebook, Twitter and other social media networks.

(Pictured Frudua GFF-MIX).