BACK TO INDEX
Supplied along with the original Floyd Rose tremolo and the Schaller version, you will find a locking nut. This can be ordered in different sizes to match various width and string spacing.

The most common models are R2 (41.8mm) and R4 (43mm).

HINTS AND TIPS
There is an interesting "in between" choice though, called R3. The R3 version measures 43mm in width (like the R4) but features the same narrower string spacing of the R2.

This leaves more margin from the outer strings to the edge of the fretboard, offering two advantages:

1) This allows the luthier to apply more beveling (the neck is more comfortable),
2) It also facilitates "pull-off" techniques.

For use on angled headstocks (Gibson/Ibanez) there are special models of string lockers which do not need nut removal. This solution also prevents headstock weakening and breakage.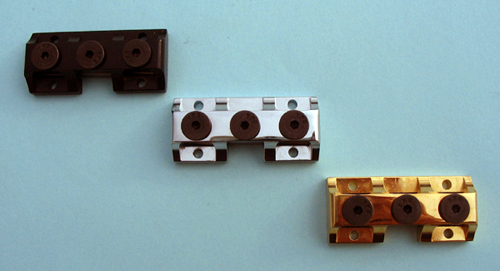 Kahler string lockers do not require nut removal.
HINTS AND TIPS
Some troubleshooting: It may happen to you that, while locking the nut, you may notice an increase in tuned pitch. In this case try lowering the string retainer a bit (turning the two mount screws clockwise) till the problem disappears. There is a lot of tension here so be sure to use a screwdriver that perfectly fits the screws, and loosen the strings before you proceed.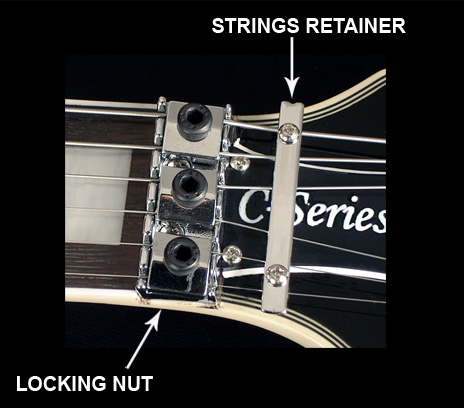 Floyd Rose nut and string retainer on Tuscany Rush Custom model.
If you notice a strange "sitar" effect on an open string, this most probably means that the string is just slightly touching one of the sides of the small "V" where it is inserted into the locking nut. In this case, unlock the string and re-lock it while keeping the string held to one side if the "V" walls with your fingers. If you still hear the "sitar" effect, try re-locking it holding the string onto the opposite side.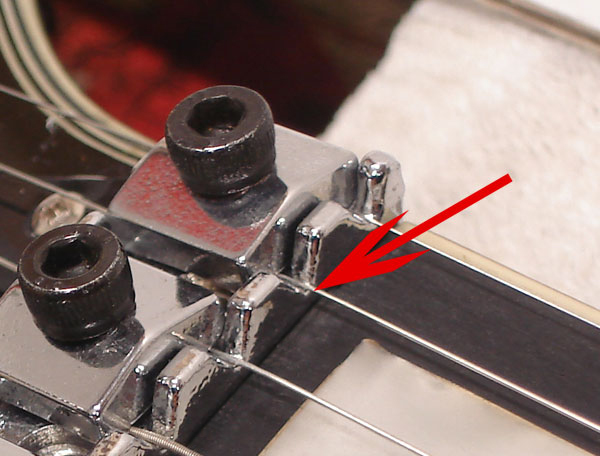 The "V" insert point on the Floyd Rose locking nut on
Tuscany Rush Custom model.
Tired of fighting with your Floyd Rose? To learn how to setup a Floyd Rose in 2 minutes, please check this incredible Galeazzo Frudua video.




© 2018 Galeazzo Frudua. All rights reserved



BACK TO INDEX