HOME
> Difference between 22 frets and 24 frets on the electric guitar
DIFFERENCE BETWEEN 22 FRETS AND 24 FRETS ON THE ELECTRIC GUITAR
There are two main considerations to make when choosing between a 22- or 24-fret fretboard on the electric guitar.
Both solutions indeed have a number of undeniable benefits, on both the ease of the fretboard and the sound.


First of all, it is important to consider how significant the presence of two extra frets (the 23rd and 24th) is for your solo style of music. Let's remember how the musical evolution forced Fender in the late '80s to add the 22nd fret to the Stratocaster, which originally only had 21.

Secondly you should consider that the presence of these two extra frets will shift the position of the neck and middle pickup slightly further back towards the bridge and where once there was the neck pickup, now there will be the 24th fret.


In terms of sound, moving the neck pickup toward the bridge will cause it to sound a little brighter, which is ok for modern rock and metal but not if you're chasing that classic rock and vintage tone.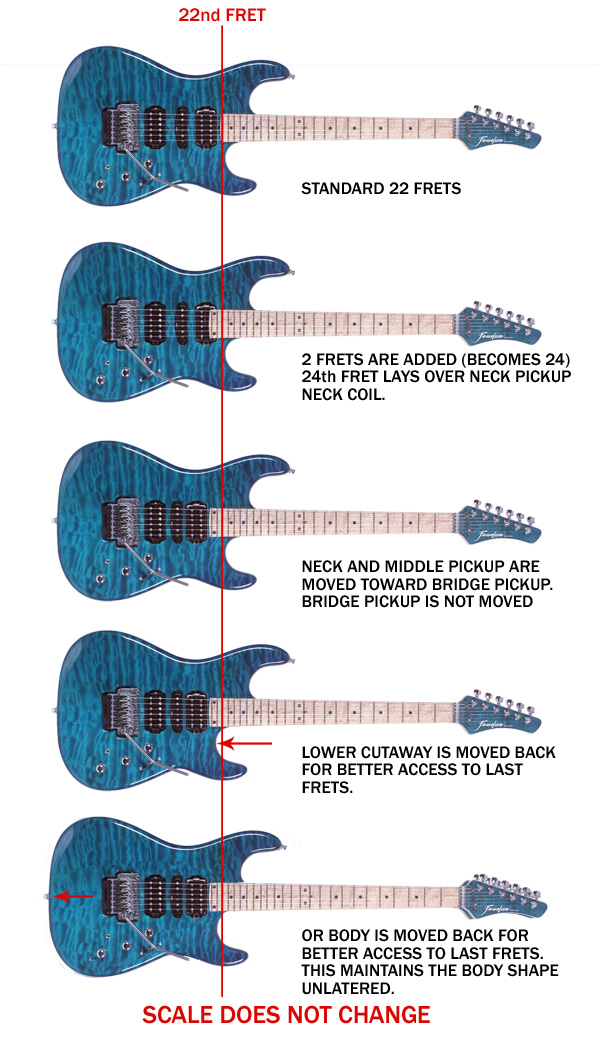 This photo shows the morphing from 22 frets to 24 frets on one
of my guitars (Frudua GFF-MIX).
Fitting the numbers of frets for your music styles

The decision is therefore based on the priority given to the presence of two extra frets for the performance of musical phrases in the last part of the fretboard, and on the importance that a "vintage" sound has for us.

In fact, these settings are mutually exclusive, as those who often play till the 24th fret mostly use the bridge pickup which is in no way affected by the number of frets.

As for the ease of access to the last frets, this problem is now solved on almost all the new generation guitars and basses through the use of contoured neck heels or through the use of the neck through body, construction technique where the neck extends to form the central part of the body, allowing a wider bevel in the heel and consequently a better access for the hand to the last fret positions.